Wow, February just came right in there didn't it? It seems like just yesterday I did my post for last month. I almost couldn't think of an idea for this month and then it hit me. Some of you might be just like me, expecting a child and don't know what books you should get for your baby! Originally when my friends were thinking about my shower I had wanted everyone to bring a book, but there was one child's book which is a classic that I do not want, how can you possibly tell people bring any book...but not this title? So we scrapped that idea. Here are a couple classics that I suggest for baby's library!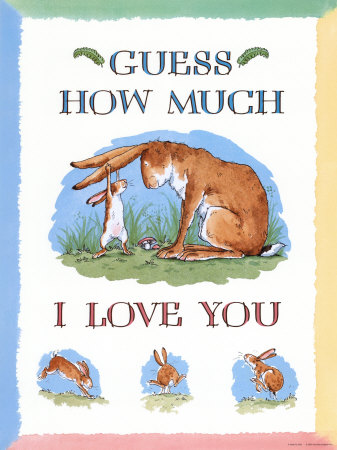 Perhaps my favorite children's book of all time. In Guess How Much I love you by Sam McBratney Big Nut Brown Hare (or as my best friend used to read to her children (Big butt brown hare) competes with Little Nut Brown Hare about how much they love each other. I actually bought a copy of this book for my husband back when we were dating to show how much I love him. It's a great story about a parents love for their child.
In Goodnight Moon by Margaret Wise Brown a little bunny takes the time to say good night to so many things in his room. There have been quite a few parodies of this book such as Goodnight Goon (for Halloween) or Goodnight Bush, but this classic is simple and perfect for bed time reading.
I couldn't post about kids books without including something by Eric Carle, so I chose The Very Hungry Caterpillar. Which is about a caterpillar who eats so much that he eventually goes to sleep in his cocoon, you can take a guess as to how the story ends,but I won't be the one to spoil it for you!
Who can forget Little Golden Books, more specifically the Poky Little Puppy?! It's about a curious little puppy who likes to take his time and explore the world around him. There are honestly so many Little Golden Books I could suggest, but this is the most popular one (well that I found when I actually sold books), so I chose this one to look at.
My final suggestion is I Love You Through and Through by Bernadette Rossetti-Shustak. This book again talks about love, but it is unconditional love for a child's teddy bear. It will reinforce the love that you have for your child with every reading.
Hope this gives you some ideas for books to start a library for baby, whether it's yours or a friend/relative. I can truly say they are some of the best books you can give!